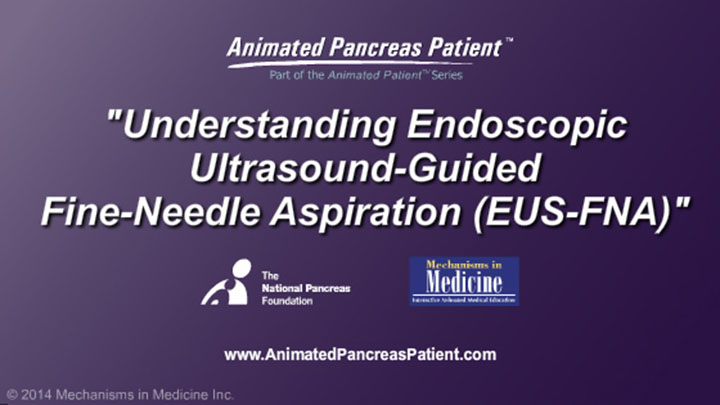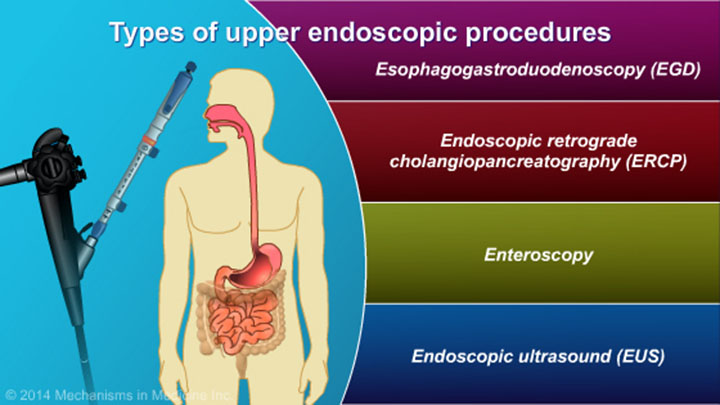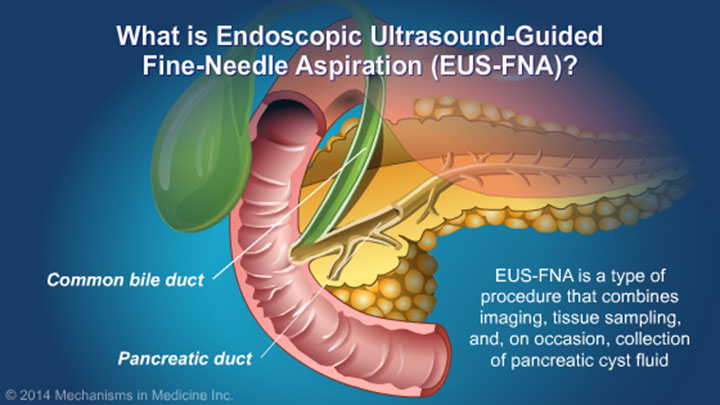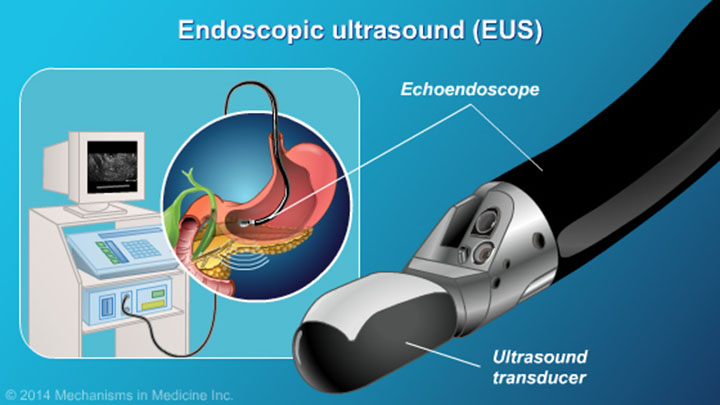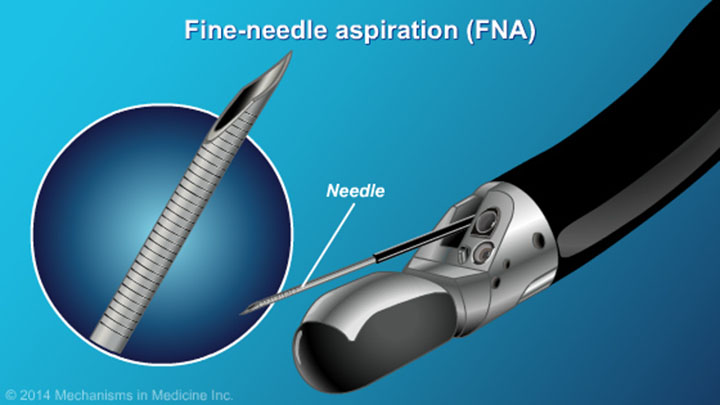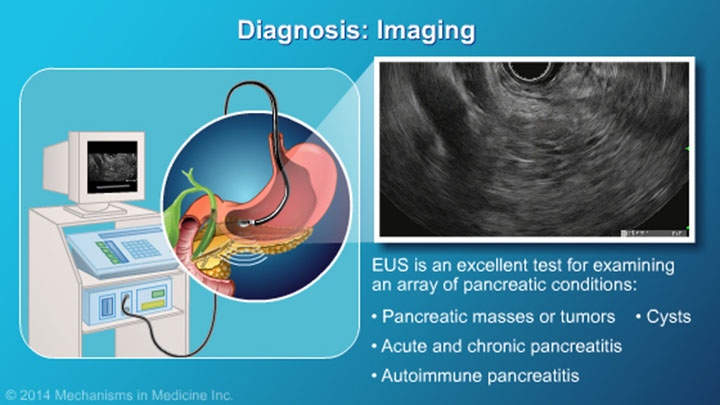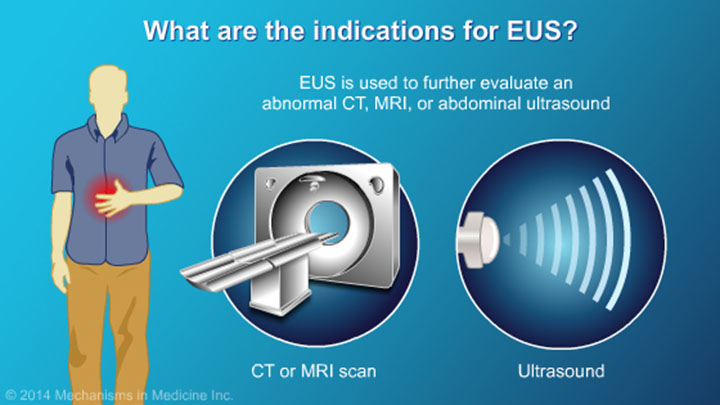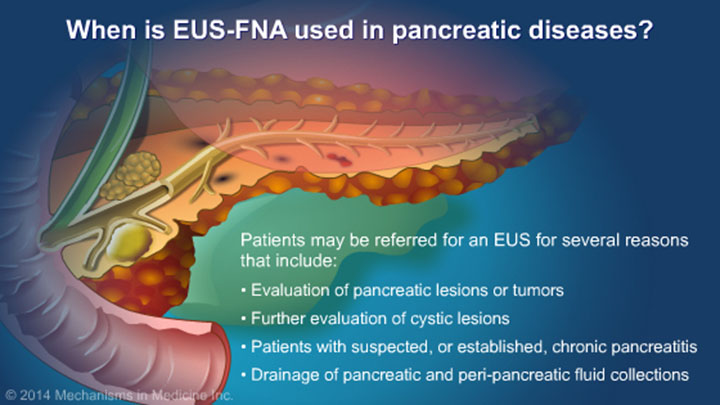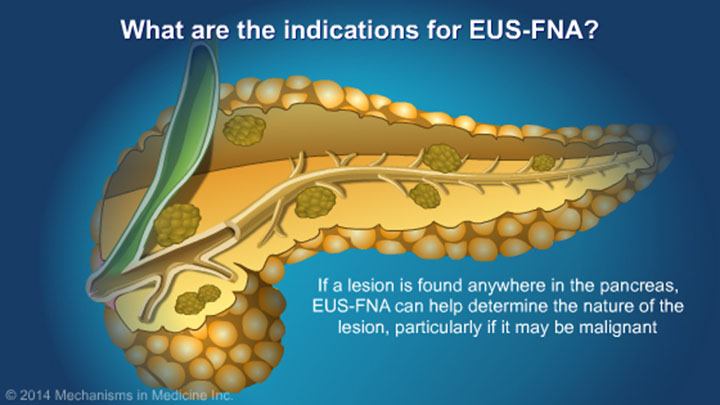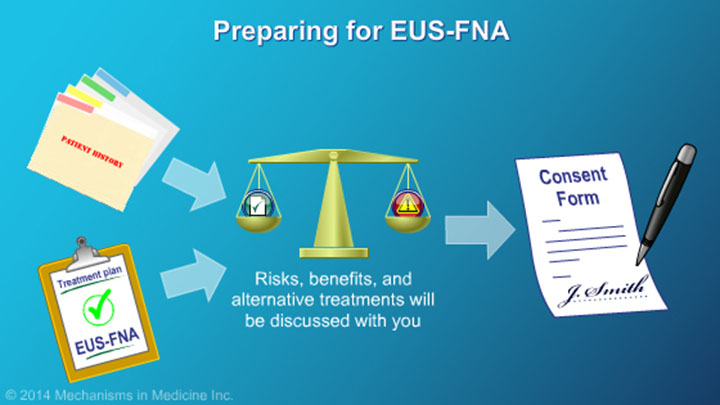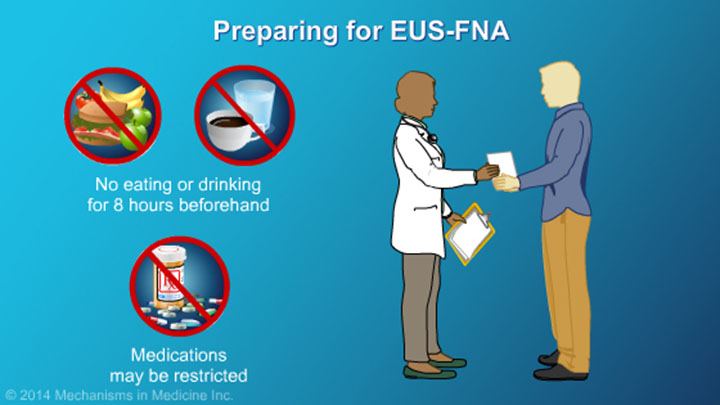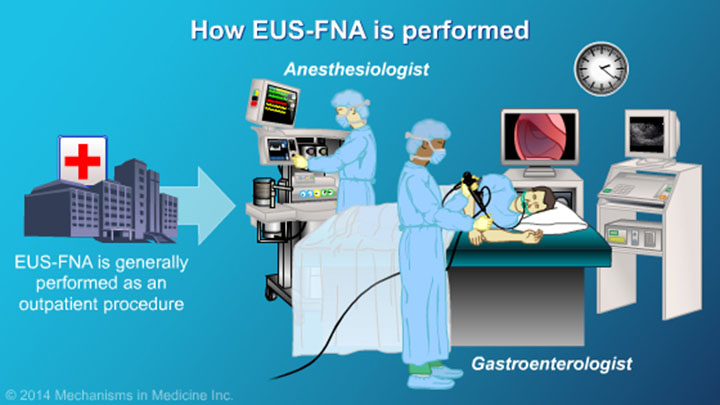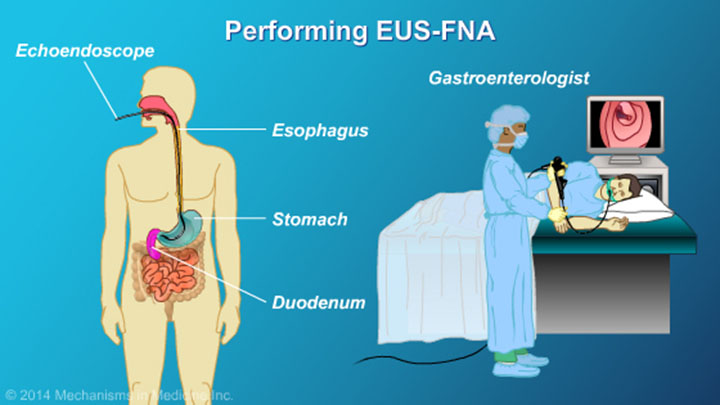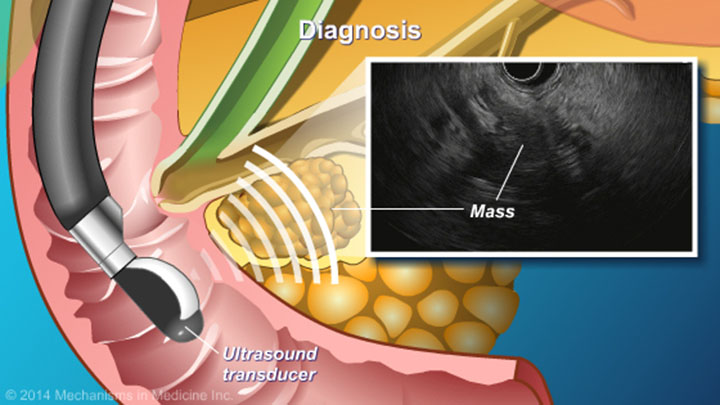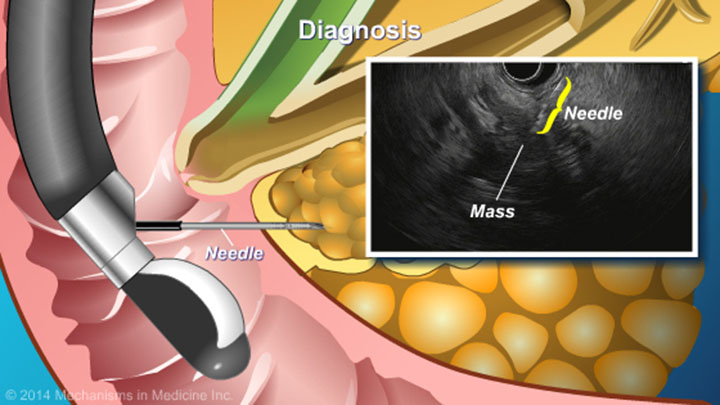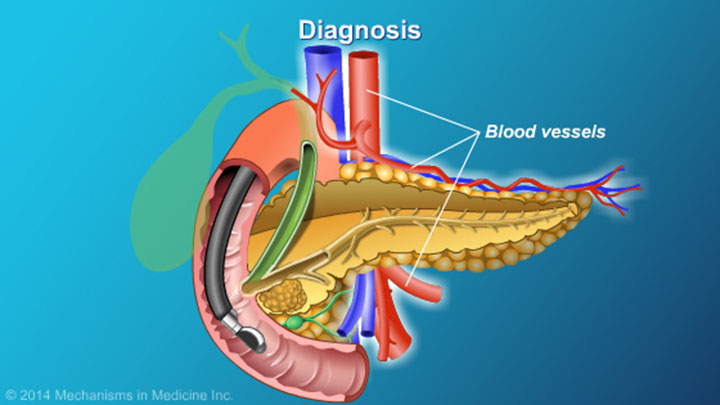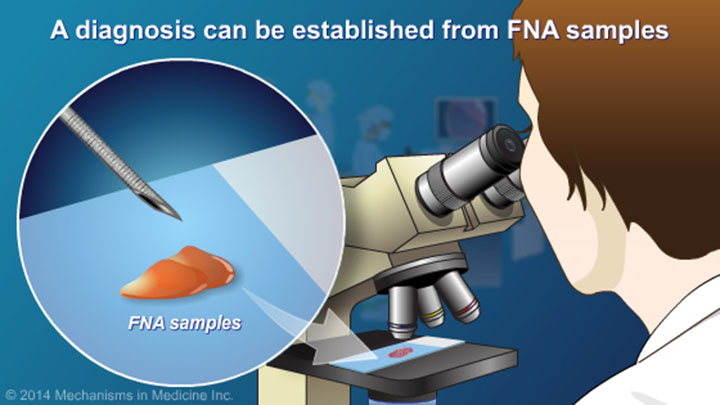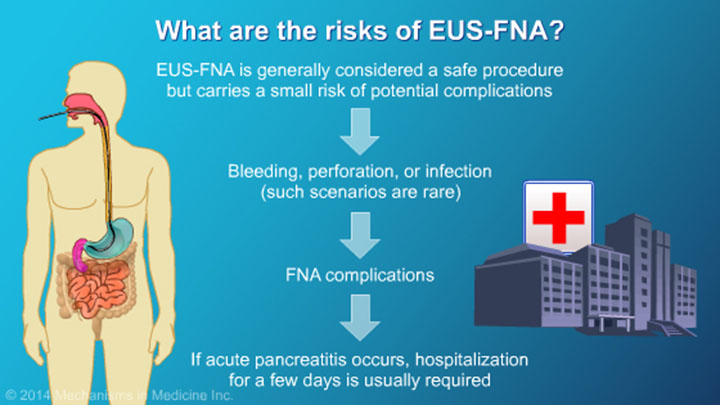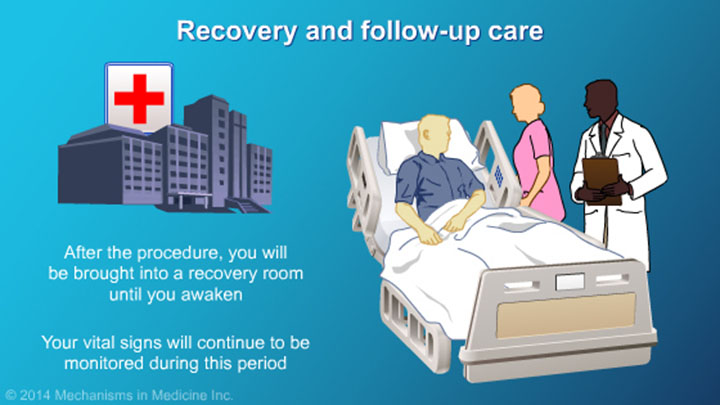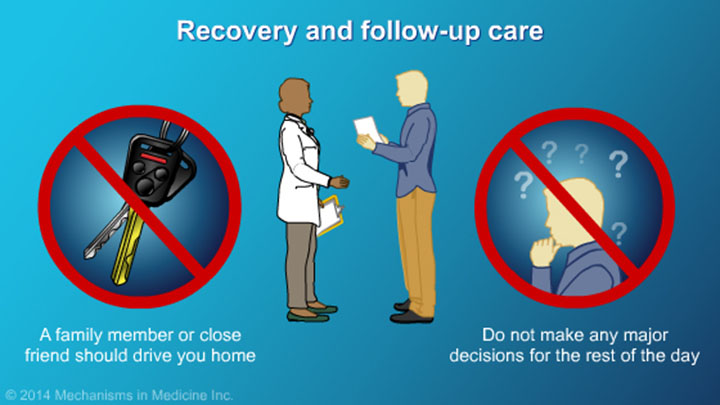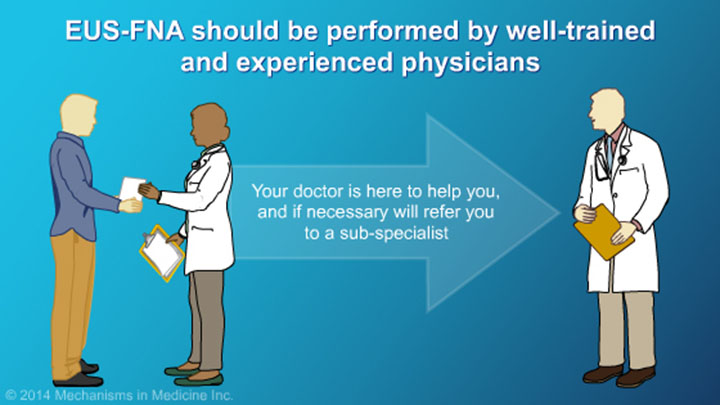 Please note: This slide show represents a visual interpretation and is not intended to provide, nor substitute for your doctor's medical and/or clinical advice.
Endoscopy is a medical procedure in which a flexible instrument, that has a camera on the end, called an endoscope is passed into an area of the body, such as the gastrointestinal (GI) tract.
Physicians specializing in diseases of the digestive system are known as gastroenterologists.
Gastroenterologists use endoscopy to view a patient's GI tract, and may employ a variety of endoscopic procedures.
Depending on what is being examined, several other types of endoscopic procedures can be used.
Esophagogastroduodenoscopy (EGD) is used to examine the lining of the esophagus, stomach, and duodenum.
Endoscopic Retrograde Cholangiopancreatography (ERCP) is used to diagnose and treat a specific disease within the pancreatic or bile ducts.
Enteroscopy is used to examine deeper into the small bowel, and is useful when other imaging techniques have shown an abnormal finding that can't be reached using EGD or colonoscopy.
Endoscopic Ultrasound (EUS) combines endoscopy with ultrasound (or echoendoscopy) to obtain detailed images of the digestive tract, including the pancreas and surrounding abdominal organs.
Endoscopic Ultrasound-Guided Fine-Needle Aspiration (EUS-FNA) is a type of procedure that combines steps involving imaging, tissue sampling, and on occasion, collection of pancreatic cyst fluid. It is often used on patients who have, or are suspected of having, diseases of the pancreas.
The endoscopic ultrasound component of the EUS-FNA procedure involves the insertion of a thin flexible tube (an echoendoscope) into the mouth, esophagus, stomach, and further into the small intestine (known as the duodenum).
At the tip of the echoendoscope is an ultrasound transducer. The sound waves emitted and detected by the transducer are converted into detailed images of the pancreas and surrounding abdominal organs. These images are interpreted by your doctor to pinpoint areas of interest.
EUS-FNA simultaneously involves a procedure, referred to as fine-needle aspiration (FNA), which allows your doctor to sample areas of interest for analysis.
FNA uses a specialized needle that can be inserted through the wall of the stomach or intestine into the pancreas.
Using EUS for guidance, the physician is able to accurately visualize and direct the needle to the target area.
EUS is an excellent test for examining an array of pancreatic conditions that include: pancreatic masses or tumors, cysts, acute and chronic pancreatitis, and autoimmune pancreatitis.
Most commonly, EUS is used to further evaluate an abnormal computerized tomography (CT) scan, magnetic resonance imaging (MRI) scan, or abdominal ultrasound.
Patients may be referred for an EUS for several reasons that include: evaluation of pancreatic lesions or tumors; further evaluation of cystic lesions of the pancreas; and in patients with suspected, or established, chronic pancreatitis.
EUS is also used to drain symptomatic pancreatic and peri-pancreatic fluid collections.
If a lesion is found anywhere in the pancreas, EUS-FNA can help determine the nature of the lesion, particularly if it may be malignant.
Once your doctor has taken a full medical history, established a treatment plan, and has determined that there is a need for EUS-FNA, the risks, benefits and alternative treatments will be discussed with you.
You will be asked to sign an informed consent that acknowledges that you understand the risks and benefits of the procedure, and authorizes your doctor to proceed.
Preparing for EUS-FNA is very important. The upper GI tract must be empty. Do not eat or drink for 8 hours before the procedure. Medications may be restricted prior to and after EUS-FNA. This will be determined by your doctor, with particular attention given to patients who have hypertension, diabetes, who take blood thinner medications, or who have bleeding disorders.
Your doctor will provide written instructions on how to prepare for your EUS-FNA, the follow-up care required at home, and how to recognize complications in case they occur.
EUS-FNA is generally performed as an outpatient procedure, but on occasion it is performed when the patient is in the hospital for an acute problem.
Gastroenterologists may work alongside anesthesiologists to provide sedation. Intravenous fluids and anesthetics are supplied via an IV catheter. When indicated, an antibiotic may be given. Most patients are usually in deep sleep and do not report any discomfort. Throughout the procedure, your vital signs will be closely monitored.
The procedure may be short or lengthy, depending on the complexity of the case.
A mouth piece will be used to protect both your teeth and the echoendoscope.
The echoendoscope is then inserted into the mouth, passed through the esophagus, the stomach, and into the duodenum. The area of interest is then carefully examined. When indicated, samples are obtained using FNA for further analysis.
The sound waves emitted from the ultrasound transducer yield detailed images when these sound waves bounce back and are analyzed. Your physician interprets these images to locate abnormal tissue masses or abnormal collections of fluid.
In the case of a pancreatic tumor, once identified and localized on the ultrasound image, the FNA needle extends from the scope head. The lesion is pierced and the needle is moved back and forth several times in multiple areas of the lesion to obtain an adequate sample for analysis.
On occasion, peri-pancreatic lymph nodes are also sampled to determine if the tumor has spread.
The vessels around the pancreas are also closely studied to rule out any type of tumor involvement within the peri-pancreatic arteries and veins.
This is called staging and grading of the pancreatic tumor and this helps determine how advanced or localized the disease is.
FNA samples are frequently read in the room where the procedure is being performed to ensure an adequate sample and, on occasion, to establish a preliminary diagnosis.
These samples are used to diagnose, stage, or even rule out the presence of pancreatic disease or cancer, to determine the best course of treatment.
While EUS-FNA is generally considered a safe procedure – while infrequent - it does carry a small risk of potential complications, including bleeding, perforation, or infection.
More specifically, FNA complications include acute pancreatitis that may result in hospitalization for a few days. Pancreatic bleeding or infection due to tissue sampling attempts can also occur but are very rare.
EUS-FNA generally causes very little or no discomfort during or following the procedure.
After the procedure, you will be brought into a recovery room until you awaken and your vital signs will continue to be monitored during this period.
Once you have recovered, your physician should meet with you and follow-up regarding your condition, and provide further instructions about any additional medications. This may include a short course of oral antibiotics to prevent infection.
Before you are discharged from the hospital, you must make arrangements with a family member or a close friend to drive you home. Because of the medications used during the procedure, you should take the rest of the day off and you should not make any major decisions.
EUS-FNA is an advanced endoscopic procedure that should be performed by well-trained and experienced physicians.
You should not hesitate to ask your doctor about how much experience they have performing EUS-FNA. Your doctor is here to help you, and if necessary will refer you to a sub-specialist.
Slide Show - Understanding EUS-FNA
This slide show describes Endoscopic Ultrasound-Guided Fine-Needle Aspiration (EUS-FNA), an endoscopic procedure used to obtain detailed images of the digestive tract, including the pancreas and surrounding abdominal organs and tissue samples for analysis. This procedure helps your doctor to diagnose, stage, or even rule out the presence of pancreatic disease or cancer, to determine the best course of treatment.
Click here to take our SURVEY
Your feedback is important to us! We will use your feedback to develop future areas of content about pancreatic diseases which will help other patients, caregivers and families.
Please rate this content: